Next Event
Dawn Dust Palace and Auckland philharmonia
Fri 11 Oct 2019 8:00pm 
Sat 12 Oct 2019 2:00pm
ASB Aotea Center
Conductor Tianyi Lu
Cirque Performers The Dust Palace
Artistic Director Mike Edward 
After sell-out show Midnight in 2017, the APO is collaborating again with The Dust Palace, Auckland's leading Circus Theatre company. 
In an enchanted realm a young warrior searches for her father before the darkness consumes him. Fighting back the shadows, she is pushed to the limits of her bravery. In the darkest hour, we all fear the morning might not arrive...
While our hero searches in the darkness, encountering magical creatures and a dazzling display of cirque artistry, the orchestra sets the scene. From the subtle drama of Handel's beautiful Sarabande, to Respighi's quirky portrait of 'The Nightingale' and meeting the new day with the most famous sunrise ever set to music, Grieg's shimmering 'Morning Mood' from Peer Gynt.
News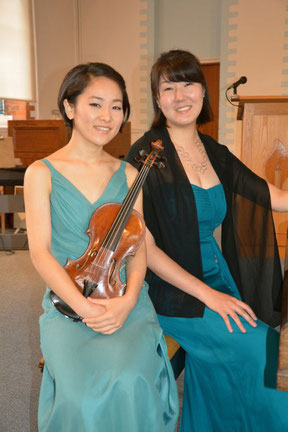 An artist,Peter Horsfield made a poem about her concert with a pianist, Tokino Kaga.
Japanese Duo
Concert of contrast and coherence
captures poignant mood-swings,
from dark and anguished
to gentle, dreamy, joyful.
Violin and piano
communicate with interplay and sensitivity:
tumbling, percussive chords alternate
with lyrical legato,
passionate pizzicatos
blend with rippling arpeggios.
Jewish, Japanese, Norwegian
(Bloch, Hikaru Hayashi, Grieg),
integrate a special character,
interpretation unique in music –
reflected in their flowing dresses,
turquoise and green;
and female Oriental features,
emphasised by different statures,
enhance our sound experience;
harmonious and holistic balance.
Peter Horsfield 11/7/2014
(Inspired by the lunchtime concert performed at Leatherhead Methodist Church on 10th July 2014 by Yuhka Nagai, violin; and Tokino Kaga, piano.)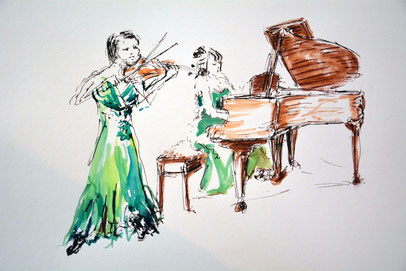 An artist, Diana painted a violinist,Yuhka Nagai and a pianist, Tokino Kaga during my concert.There are some paintings in the gallery page!!